DELIVERY: tug Eraclea
12-06-2010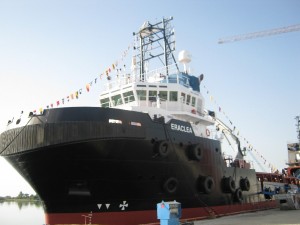 On 12th June 2010 the anchor handling tug supply vessel (AHTS) named Eraclea was delivered to Augustea S.p.A. by the Rosetti Marino Shipyard in Ravenna.
The vessel has a power of 9.000 BHP (equivalent to 6.000 kw), a bollard pull of around 120 tons, and a speed of 15 knots. The Eraclea runs on heavy fuel oil, a solution that turned out to be particularly competitive in the case of other tugs in Augustea's fleet due to lower costs. With this new tug, the Augustea Group is implementing its strategy of growth in the offshore towage market.
The delivery ceremony was attended by Lucio Zagari (Chairman of Augustea Group), Pietrantonio Cafiero (Tug division COO) and Piera Verde (sponsor of the ship) successfully cut the champagne cord marking a wonderful moment.
The Eraclea represents the conclusion of an important fleet renewal plan started in 2004 by Augustea Group with Rosetti Marino Shipyard that has seen the delivery of 10 vessels, including 6 harbour and 4 offshore tugs. Mr Zagari once again gave thanks to Rosetti Marino for another excellent job.